Andrew Hill, by Frank Kimbrough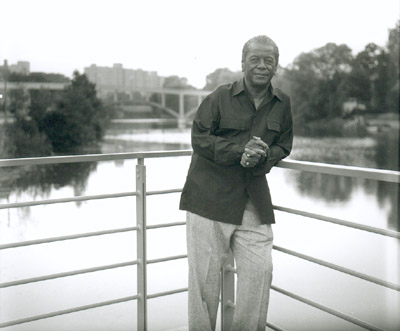 Photograph by Thomas King
Andrew Hill (b. Chicago, Illinois, June 30, 1931 - d. Jersey City, NJ, April 20, 2007) was a prolific and enigmatic pianist and composer whose music has proved to be unfailingly unique, sensual, magical, and ever changing. His influence on succeeding generations of jazz musicians and composers is strongly felt - even at his most elliptical and puzzling, he was a communicator of the highest order. Andrew's methods of playing and composing were concentrated on being in the present; he didn't care for living in the past, or "retrospectively", as he would say.
At one of our first meetings, I told Andrew that I'd love to get my hands on some of his compositions. "So would I," was his reply. I didn't yet know him well, and figured he was just giving me the brush-off, but a few months later he was back in New York and called to ask if I had any transcriptions of his tunes, saying he'd lost them in various moves. Ron Horton and I had each transcribed a number of his compositions, so I met him a few hours later at a coffee shop in Greenwich Village and he got his hands on some of his tunes after all. He didn't hang on to things, even his own charts; written music, LPs and CDs were simply fodder for a creative musical life. For Andrew, music was a living, breathing thing, always in flux, and always resistant to codification, stagnation, or anything of the kind.
There were many lessons to be learned. Andrew thought that a good composition could be played at any tempo, and at a quartet performance I attended in the early 80's, with little time for rehearsal, he played the same tune four times over the course of two sets - first at a swinging tempo, then with a Latin feel, another time as a waltz, and once again as a ballad, proving his point by example.
He didn't hang on to things, even his own charts; written music, LPs and CDs were simply fodder for a creative musical life.
When Andrew moved back to the New York area in the 90's after many years on the west coast, a new generation of musicians were waiting; they appreciated and understood his music, were eager to learn and excited at the prospect of working with him. We spoke often, and on several occasions he asked me to recommend musicians for his bands. Once, as he rehearsed his quartet a few years ago, I looked over his shoulder at the chart they were playing. What I heard seemed to have little relation to what was on paper, so I went to the bassist, John Hebert, and looked at his music stand, only to see the blank side of the sheet facing out. Seeing my look of surprise, John said that he didn't want to be distracted by the music - he was listening. I'd recommended him to Andrew; telling him that John could "hear around the corner", and there he was, doing exactly that.
Andrew's music has an air of mystery, and each listening reveals new layers of ideas and meaning. Hearing his music for the first time literally changed my life and the way I think about music. After meeting for the first time in 1980, we began a correspondence, and his mentorship gradually developed into a true and lasting friendship for which I am most grateful. Among my most cherished memories are his New Year's Day parties, with Andrew and Joanne in the kitchen with the pots on, their home filled with warmth, and on the menu: salmon, chit'lins, black-eyed peas, collard greens and lots more, lovingly prepared for all the musicians, writers, painters, friends, neighbors, and kids in attendance. Everyone always had a great time, engaged in conversation, food and drink, and the making of new friends. How better could one begin the year? Andrew Hill was a kind and generous man, thoughtful, with old-school manners. He was real folk, quick with a smile, who also just happened to have been a genius. He was the personification of congeniality, dignity, and integrity, and those of us fortunate enough to have known him are all the better for it.
In spite of his incredible discipline, he was one of the "freest" musicians with whom I've ever come into contact.
Ron Horton, Jason Moran and I transcribed these pieces because we wanted to understand them - we wanted to play them. They represent a broad range of Andrew's compositions, and may be found on recordings made for various labels in the US, Europe, and Japan over the past four decades.
The hallmark of a great composer is the ability to give each composition its own personality, and it's an ability Andrew possessed in abundance. There's nothing static about Andrew's music, though. Each time he played, he improvised from the first note - rhythms were reordered, time stretched, harmonies changed, so that everything was always new. In spite of his incredible discipline, he was one of the "freest" musicians with whom I've ever come into contact. Having experienced his thinking about music, its composition and performance, I think he'd want musicians playing the music presented here to approach it with a similar attitude. After all, the written music is only a map - the route taken, and ultimately, the journey itself - is up to you. Enjoy!
Some notes on the compositions:
"From California With Love" first appeared on the LP of the same name, recorded in 1978, and released on Artists House (AH9). Reissued on CD, Mosaic Select 23: "Andrew Hill - Solo", it appears with two alternate takes with alternate titles: "Napa Valley Twilight" and "Above Big Sur". Andrew's original lead sheet is reproduced in the booklet accompanying the LP and CD set. It's in 3/4 time, with a one section, 20 bar form. On the recordings Andrew plays an E pedal under the changes indicated for the first 4 bars, though the lead sheet appears here as he wrote it.
"Clayton Gone" was recorded in 1975, and appears on "Hommage" (East Wind), a solo recording released in Japan in 1975 and reissued on CD in 2000. It was released in the US by Test Of Time Records in 2005. After the briefest hint of the melody, just a couple of cadences, the piece continues with a rhythmic improvisation, based on an F suspended dominant vamp, moving to F minor, and then finally to F major, lessening in rhythmic intensity before moving into the main body of the tune, which has an open form consisting of three (deceptive) cadences, then a chord to move it up a half-step, then three more cadences. It's a ruminative piece, played out of time, peacefully, but with forward motion.
"Gone" was first recorded in 1990, and appears as one of two solo performances on "But Not Farewell" (Blue Note). It also appears in a group performance on Reggie Workman's "Summit Conference" (Postcards), recorded in 1993. This transcription is from the Blue Note recording, on which it's played expansively, in a loose, stream-of consciousness style. The improvisation is based on the second part of the tune, with an occasional allusion to the beginning few bars, returning to the written melody and playing it through once more to end the piece.
"Nefertiti" is from the album of the same name, originally issued on LP in 1978 by East Wind (Japan), and released in the US the following year by Inner City Records. It was reissued on CD by East Wind in 2002, and in the US by Test Of Time Records in 2005. With a slightly different title ("Nefertisis"), and played in a different key (D minor), it appears on Andrew Hill's first solo album, "Live at Montreux", recorded in July of 1975, and released on LP by Arista/Freedom. It was later reissued on CD by Freedom. It has an AABA, 32 bar form, and sounds like a processional - very regal and stately, slow and steady.
"Hattie" also appears on "Nefertiti", and is named for Andrew's mother. It's one of his many waltzes, a simple, well-constructed 20 bar form, with plenty of room to play around with the written rhythms. It's a rollicking, playful, joyous tune.
"Domani" ("tomorrow", in Italian) was recorded in Italy in 1986 for a trio and quartet album ("Shades", on Soul Note). It's played extremely up tempo - somewhere around 300 beats a minute. It's a two section, 32 bar form, but is divided 14+18 instead of 16+16. The first section is two bars less than expected, which propels it into the second section, which has two extra bars more than expected, giving a slight breather before the succeeding chorus.
"Tripping", also from "Shades", is played with a Latin "2" feel. It's a 32 bar, AABA form, and the melody is played with loose rhythm. It also appears in a solo version on "Hommage" (East Wind/Test Of Time) with an alternate title (Naked Spirit), played in a different key (Bb minor), with a slower feel somewhat similar to a tango.
"Westbury" was recorded in 1990, and appears on "But Not Farewell"(Blue Note). It's a waltz, with an AAB (8+8+16 bars) form, scored for a front line of soprano saxophone and trombone. Named for Andrew's favorite hotel in New York, it has a breezy, elegant feel.
"Nicodemus" also appears on "But Not Farewell", and is essentially a blues form with altered chord changes, repeated to make a 24 bar form with first and second endings. It's in 5/4 meter, and the chord changes in the last 4 bars of each 12 bar section vary significantly from the changes one usually associates with the blues. Andrew's lead sheet is in G, and doesn't indicate first and second endings. The transcription presented here is in the key in which it was recorded (F), and indicates first and second endings, as well as a few notes that are played differently on the CD than indicated on Andrew's lead sheet.
"Tough Love" is in two parts - when Ron Horton and I discussed this tune, we were confused before realizing that we were thinking about two different tunes. This is not unusual given Andrew's penchant for re-titling pieces, or for giving two pieces the same title. Then I remembered a conversation in which Andrew had referred to the "Tough Love Suite", so perhaps that that explains the confusion. This transcription is from Greg Osby's "Invisible Hand"(Blue Note), recorded in 1999, and one of Andrew's few recorded sideman appearances. A solo piano version also appears on "Dusk" (Palmetto), also from 1999, where it's played in a much looser fashion. It's a 2 part, 16+16 bar form, but with irregular phrasing (each section is 5+5+6 bars).
"Ashes" also appears on "The Invisible Hand", and is one of only a few tunes we have in Andrew's distinctive hand. It's a 19 bar form (4+5+6+4 bars) in medium tempo.
"Mist Flower "was recorded in 1975, and appears on "Blue Black", first released on LP in Japan by East Wind, and later issued in the US on CD by Test of Time Records. This tune has a one section, 15 bar form, with a straight-eighth note feel in medium tempo, with flute playing the melody. This tune should not be confused with an entirely different tune, also called "Mist Flower", that appears on Andrew's trio recording "Strange Serenade" (on Soul Note).
"Ball Square" has been recorded twice, the first in a trio setting on Shades (Soul Note), in a brisk swinging tempo that makes the triplets in bars 5 and 6 almost impossible to play (with one hand). On its subsequent recording by the sextet on "Dusk" (Palmetto), it's played as a march at a much slower tempo. The B section always has a 12/8 blues feel for 6 bars before snapping back to the original tempo for 2 bars, and the 8 bar drum solo that ends the AAB (16+16+16 bar) form. During solos, the harmony on the A sections may be treated as the first 8 bars of a 12 bar blues. The 8 bar drum solos at the end of each section are built into the form, and are included in solos.
---
Related Articles: